---
It was a nice day when the confreres of three communities in Uganda gathered together yesterday in Friday February 3rd, 2023f or their first tri-monthly recollection of the year at the Salesian Community of Namugongo-Kampala.
The attendants were seven brothers and eight priests from Kamuli, Bombo and Namugongo. Fr Kennedy came all the way from Gulu Atede. The preacher of the recollection was Rev. Fr Arasu, sdb. The theme of the recollection was developed from the Synodal theme "Journeying together" intertwined with the Holy Father's theme "Communion Participation Mission to form "Building Synodal Spirituality and Deepening Synodal virtues".
In his talk, the preacher asserted that just as the mission of the Church requires the entire People of God to be on a journey, together with each member playing his or her crucial role, united with each other, the Salesian mission also invites us to have the same spirit. As the synodal Church walks forward in communion to pursue a common mission through the participation of each and every one of her members, we too as Salesians in Uganda, are invited to involve each and every member of our Salesian family. In doing this, the synodal spirituality will be built because there will be change in the mindset as well as a radical transformation of the people.
He further added that we need to be humble, bring the Church closer to the people, and walk together even with those we think act differently. However, this is possible only through prayer which helps to change "the self". It is what the preacher called "spirituality" as it concerns with the human "spirit" other than the material concern. In doing this, the synodal virtues will be deepened as every Christian will be required to actively take part in the internal sharing both between themselves and their pastors. Once the faithful feel consulted and involved in the decision making, change and progress will result and those will be the virtues of the synod being deepened.
In conclusion, the preacher invited us to have a Church spirit of journeying together in our mission as Pope Francis invites us. After the talk, we had some time for reflection, meditation and confession, followed by the celebration of the Holy Mass presided over by Father Arasu. After the Eucharistic celebration, we had our lunch. This was followed by a brief open-discussion about the ways to improve our collaboration with the lay people. It was suggested that we need to make an awareness to the lay people we work with, on how to work with us, because we need them and without them, we cannot do much. After the discussion, the confreres thanked the preacher. There was a concluding prayer before the confreres from Bombo and Kamuli departed back to their communities at around 04:00 pm.
Joseph Mugisa, sdb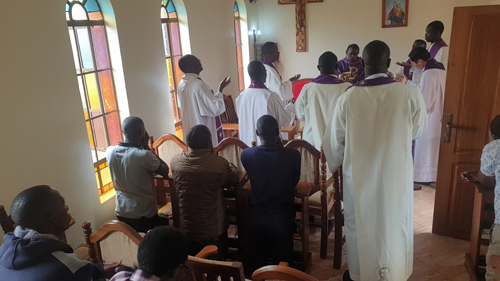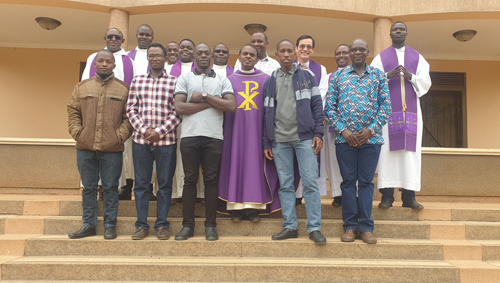 Uganda – Namugongo : Tri-monthly recollection