---
Young people in Palabek refugee settlement have expressed their joy after they were presented with a bus donated by Madrid Procure to help VTC students in various activities including transport during recreational activities that may take place far from the settlement.
Madrid Procure has allocated money to the Salesians of Don Bosco of the AGL Vice province to purchase the bus. The Salesians are striving for the wellbeing of young refugees and that is why, besides training them in various professions, the Salesians also campaign for a better life. Despite living a difficult life, young people do not fail to be happy in the settlement since many benefactors have continuously stayed behind them through the Salesian mission.
Palabek refugee settlement hosts thousands of refugees, a big number of them came from the war-torn South Sudan. The Salesians remain close to these refugees through education, social wellbeing, evangelisation, youth development, community livelihood and more.
Ange de la Victoire Dusabemungu.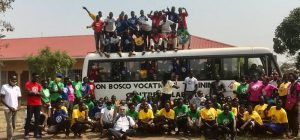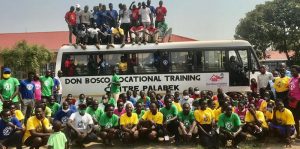 Palabek: Youth overwhelmed with joy as they receive new bus for VTC school