---
At Don Bosco Kamuli, especially in the Youth Centre, we are thankful to God for his kindness and we are glad to receive new musical instruments from our donors.
The message of Don Bosco to the young people was focused on joy and being responsible. He said, "you can sing, dance, jump or do whatever you want except sin". He added that a Salesian house without music is like a body without soul.
Those words have a deep significance in the Salesian family . They are no longer the words of Don Bosco, they are ours. We believe in Don Bosco's words that "a wolf can behave like a sheep and a stubborn child becomes a holy one through the preventive system".
A wise man said "education eradicates natural animality". This is true, because as long as a human being is not idle, particularly young people, there is no time for temptation.
Among the instruments we received, some are for the Jazz band, others are for the Brass band, such as trumpets, baritones, trombones, drum bass, French horns, flutes, conductor's stands etc. We inaugurated them on 11th December 2020, then we handed them over to the youths on the 18th December 2020.
As we are passing through a hard time of Covid-19 pandemic, we hope that with time these instruments will be helpful to our young people and they will make our apostolate easier afterwards.
We thank our benefactors and all who have contributed to this donation; we are grateful for their help.
I seize this opportunity to wish each one of you "Merry Christmas" and "a happy New year 2021".
May Saint John Bosco and Mary Help of Christians intercede for us.
Brother Samuel Hazabinkiko, sdb.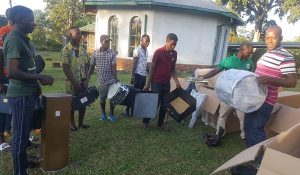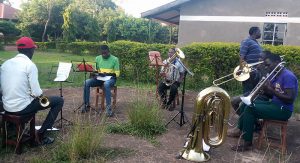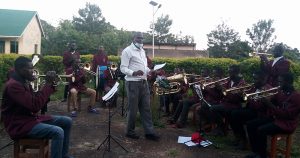 Kamuli Youth Centre receives new musical instruments.