---
AGL Province / UGANDA
On Sunday, September 6th 2020, the day after he was ordained a priest, Fr Oyergiu Kennedy celebrated his "first mass" in Parombo parish, Nebbi Diocese (Northern Uganda) Early in the morning Fr. Kennedy, together with a delegation of a few Salesians who got the chance of being present, jumped into vehicles leaving Gulu and taking the direction of Nebbi Diocese up to Parombo parish (170 km) for the first mass of the new priest. The joy and happiness that filled the Christians of Parombo did not allow them to respect the sanitary measures of Covid 19. The two police officers present, at a certain moment surrendered saying: " These are things of God, He will protect them".
The joyful and lively Eucharistic celebration, which started at 11: 00am, ended at 1:15pm.
Fr. ORYEM, a diocesan priest of Nebbi Diocese, was the one who preached during this first mass of Fr. Kennedy. He gave a brief history of the Salesians of Don Bosco, emphasizing the humble background of our founder Saint John Bosco and his love for the young people especially the poor and abandoned.
He asked Fr. Kennedy's family and the people of Parombo to support their son by praying for him instead of expecting financial support from him.
After mass, it was the moment of "agape sharing". It was during that very moment that we enjoyed all sorts of spectacular talents from the West Nile sub region. Indeed, it's a day to remember.
Br. Joseph Musagala, sdb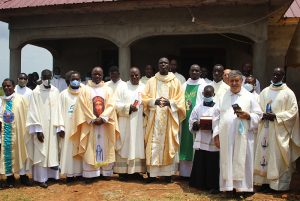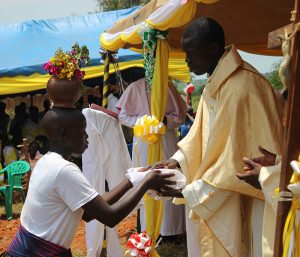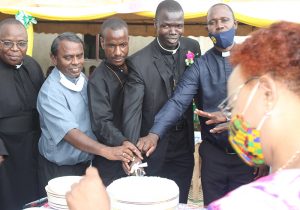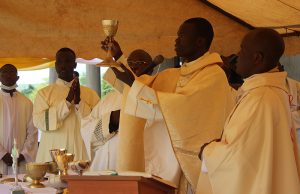 THE FIRST MASS OF FR.OYERGIU KENNEDY, sdb